Cork City's Evolution Under John Caulfield
Cork City have started the 2017 season in an emphatic fashion, a clean sweep of 12 victories from 12 matches.
The opening fixture away to Finn Harps was the only time City failed to score 2 or more goals.
This attacking potency has meant the side are winning games that last year they might have drawn. However, there are two main reasons for the team's improvements in 2017.
City have a better manager and better players than before.
Caulfield the LOI Novice
Perhaps because of his profile as an ex-LOI great, many forget how new John Caulfield is to the world of LOI management. Prior to his appointment as Cork City manager, his only management experience was at Munster Senior League level.
Entering the LOI at the not-so-ripe age of 49 also may have contributed to this. Especially given he is almost 7 years older than Stephen Kenny who took his first LOI job in 1998, aged just 27.
Caulfield shipped hefty amounts of criticism over the first 3 years of his tenure, not least from his own fans. A direct playing style and retreatment into defence were some of the main complaints levelled at him. Many of these were fair. However having brought a team promoted two seasons prior to that, to three 2nd place finishes, he would be entitled to expect more appreciation from media and fans alike.
But to anybody who applies themselves so diligently and selflessly, improvement is a natural course of action. And improve he has.
But more importantly he has improved the players at his disposal. Good recruitment has been central to this.
Parallel improvements in the club structures has allowed significant increases in the budget for player wages, doubling from €550k in 2013 to €1.1m in 2016 (a large chunk of which was bonuses resulting from Europa League progression), but at 62% of overall turnover represents a sustainable outlay.
Importance of the Cup Win
Looking back, Sean Maguire's 121st minute FAI Cup winning goal could be seen as the moment the 2017 season took shape. A reward for the diligence and faith of the players and staff after a gruelling 2016 season but more importantly the knowledge that progress was being made and better days lay ahead.
This was crucial to the retention of key players (despite the loss of Kenny Browne, arguably the best centre back in the country) such as Maguire, Kevin O'Connor and even Stephen Dooley (all of whom reputedly had offers from English clubs).
Squad Evolution
In 2015 Dundalk won the double, the 11 point margin in the league not truly reflecting the gap between them and 2nd placed Cork City. It was very obvious to Caulfield that major surgery was required. Quicker movers and quicker thinkers topped his list of priorities.
The Cork City line-up of 2015 bears little resemblance to the one gracing Turners Cross this season.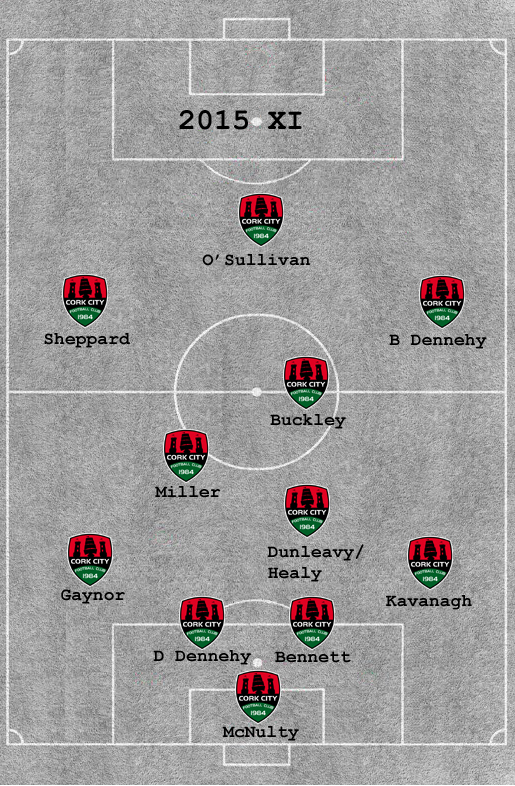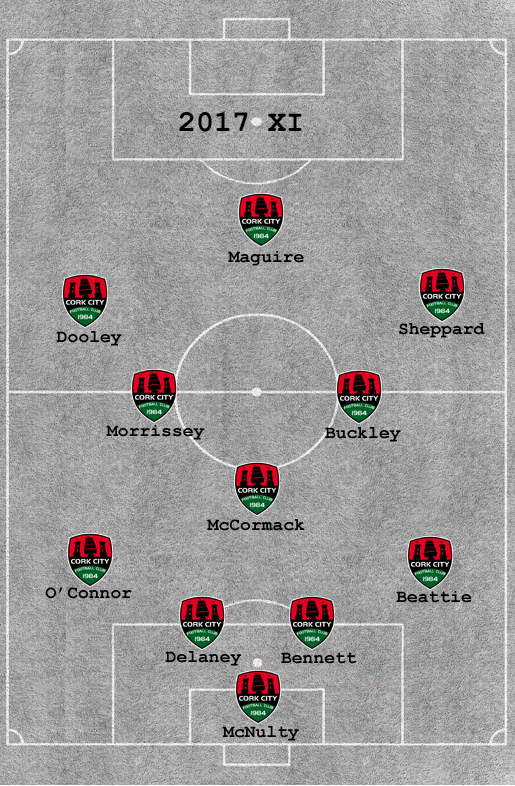 While the 2017 XI is wholly superior to the 2015 XI, the loss of John Kavanagh has been sorely felt. The 20 year old Kavanagh was in superb form in 2015, the standout City player in the first half of the season and the best attacking right back in the league. He showed all the attributes of a future Irish international. His recovery is ongoing.
However, that 2015 saw Kieran Djilali make 10 league appearances and a well over-the-hill Dan Murray make 25 appearances, (some of which were in midfield) reflects the shallowness of the squad at that time.
So too has the dressing room improved. Caulfield has evolved the squad by filling it with players that embody the spirit with which he played the game. You can well imagine how much happier the manager is to have the likes of McCormack, Beattie and Bolger raising standards every day than perhaps the likes of Billy Dennehy, whose appreciation of a team ethic may not have matched that of the management.
Speed of Thought and Speed of Movement
While 4 players remain from the 2015 edition, no individual represents the uplift in standards more than Karl Sheppard. After his first 6 months at the club, he looked on uncertain ground. It wasn't happening for him. As a converted striker, he lacks the natural ability to consistently beat a man and whip in a cross. The 2017 edition plays much more to his strengths – pace and movement. He is now in the form of his life and has a goal ratio of approx 1:3 since 2015, hugely impressive for a wide player.
Mark O'Sullivan was an outstanding centre forward in Caulfield's first two seasons (having brought him in from the Munster Senior League aged 31), a very difficult player for LOI defences to mark. However, his physical and aerial prowess meant he liked to play on top of opposing centre backs and provided an early direct option for City's back four. This had major implications for the structure and approach of the rest of the team.
Caulfield realised that despite O'Sullivan being voted as the best striker in the league in both 2014 and 2015, Cork City needed an upgrade for 2016. And a more nuanced approach. Who? Dundalk's third choice striker Sean Maguire? Really?
Maguire's constant movement and ability to link play required a thorough change in Cork City's style of play.
At times, the 2015 team contained two highly decorated Irish internationals - Ballincollig's Liam Miller and Colin Healy. Miller was very easy on the eye, and rarely lost possession. An old style "foot on the ball" type player. But again, Caulfield, perhaps frustrated by the 21 times capped midfielder penchant for Cruyff turns and lateral passing, wanted quicker ball distribution and more intensity than a 34 year old Miller could provide.
Solution? Caulfield brought in Greg Bolger, a top class LOI midfielder. Sharp in the tackle, great ability to press and a superb (forward) distributor of the ball. The remarkable thing is that 2017's 12 victories from 12 has largely been achieved without Bolger's presence.
When City announced the signings of Conor McCormack and Ryan Delaney, most supporters reaction was muted at best. Yet both have been stand-out performers in the 2017 season.
Journalist Denis Hurley description of McCormack as "Cork City's N'golo Kanté, doing the work of two men in midfield" is spot on. Constantly alert, anticipating early signs of danger, cajoling teammates, and cleaning up loose ball, it will be interesting to see how Caulfield employs him once Bolger is back to full fitness.
Garry Buckley and a resurgent Gearoid Morrissey are both in superb physical shape this season. Their industry and endeavour has been crucial to making life difficult for opposing teams.
While Buckley has scored 4 goals in 9 league games he is not a natural no. 10 and so often Maguire finds himself isolated up front with a large gap between him and the midfield.
What Maguire could achieve with a genuine playmaker firing bullets to him makes the mind boggle. But with that City would most likely lose midfield dominance. A price Caulfield is probably unprepared to pay.
Physical Preparation
Dundalk's excellence in 2016 had much acclaim placed on the shoulders of Graham Byrne, their physical preparation coach. There was no doubting their physical superiority over Cork City last year. Yet it has been well commented on that Cork City have majorly raised the bar regarding their own physical conditioning this season.
Watching City's front three this season it's not difficult to see the result of this improvement. Their ability to press opposing defences this season has been phenomenal at times. No more so than Sean Maguire. The improvements in his overall game have been profound. There is no way he would have been able to physically dominate two opposing centre backs in 2016 like he did in the recent game against Shamrock Rovers in Tallaght. It was an exemplary lone striker performance. And from a guy standing 5"7.
His pace and sharpness seem to have improved in tandem.
It could be said that Maguire's excellence this season is as much down to the movement of Sheppard and Dooley as the balls they supply for him.
Yet despite City's incredible start to the season, there is potential danger lurking around the corner.
The Looming July Transfer Window
It was reported recently that Maguire has a clause in his contract allowing him to be purchased for €150k in the July transfer window. The details of that clause have not been revealed. There is a huge financial difference to the club if Maguire leaves at the start of July or the end of July. If he stays until July 20th, it would allow him to play in two rounds of the Europa League qualifiers (if the club clear the first round hurdle). Winning these two rounds earned Cork City approximately €640k in 2016 and therefore are hugely lucrative for the club.
However, any foreign club signing Maguire would understandably want him to enjoy as much rest as possible in advance of pre-season training and therefore would prefer an early July transfer.
The second concern that July presents is that Ryan Delaney's loan is due to expire at that time. He has been impeccable this season alongside Alan Bennett. With John Dunleavy the only other recognised senior centre back at the club, City's options in this department are thin on the ground.
Breaking Down Deep Defences
There are other issues which dogged City in 2015 + 2016 that have yet to rear their heads but whether they have been solved yet remains unclear.
Apart from a 2 minute period v Sligo Rovers, City have not been behind in the entire 2017 season, and thus the issue of having to break down deep-lying defences has yet to present itself. Last year this was an issue that City struggled with. Games like Wexford Youths at home and (the opening 60 minutes of) Bray away are examples that come to mind where slow lateral passing and a deep defence lead to an impotent attacking performance.
Because City don't operate with a natural no.10 like a McEleney, McNamee or Finn they have had to find alternative avenues of attack. Quicker passing and movement has been the approach Caulfield has instigated. When this falters, so does the team's potency.
Scoring early goals has been a major deterrent for teams attempting to 'park the bus'. For some reason last season City were accustomed to slow starts and hectic finishes but 2017 has brought a much higher proportion of first half goals.
Retreating into Defence
A chief criticism levelled at Caulfield's Cork City teams has been the practice of retreating into defence when trying to see out a lead. We have previously written here about Dundalk's excellence at passing the ball under pressure and the bravery required to do so. City have yet to display the requisite calmness and composure in those "squeaky bum" moments.
Is this perhaps a reflection of the nervous energy that permeates from Caulfield's anxious sideline body language? In his defence, when those moments have occurred this year he has sought to drive his team forward, often by bringing on Conor Ellis with Maguire dropping into midfield in an attempt to coax his players further up the pitch. It is a dimension City have still to develop, and one that might yet come against them when they face a team of their quality - a recuperated Dundalk or a Europa League opponent.
Plus Ca Change?
City are in an unprecedented position of strength, however, with only 12 games played, twists and turns will be plentiful. Dealing with that first defeat will tell a lot about the character of the side.
So too will be the ability to deal with Dundalk's title challenge (it will come). Stephen Kenny's side are full of experience and will relish the opportunity to play with little expectation or pressure on their shoulders. But at the moment Cork City are most certainly in the driving seat. July presented a real wobble for City's title challenge in 2016 and one fears to be equally as challenging this time round.
But for now John Caulfield has improved himself as a manager and he has improved his club. Nobody would deserve that league title more than him.